Sunday School

We run Sunday Schools at both our churches every Sunday morning (except when there is a Family service).
All services start together as a church family, then the children leave with their leaders for their groups, sometimes they return at the end of the service to 'show and tell'. At Christening services they return for the Baptism part of the service.
We follow the lectionary readings using ROOTS (//www.rootsontheweb.com/) so that the adults and children are learning about the same theme.
We welcome children from the age of 3 upwards. Parents are welcome to go with their child and check out what the Sunday School teachers have planned.  Do let them know if your child has any food allergies or particular needs.
For the under 3's, All Saints has an unsupervised crèche area, as well as toys to can keep children entertained in the pews. There is a baby changing area at both churches. Please ask us if you are unable to locate the toys or changing facilities.
Holiday Youth Group
During the summer we ran a weekly youth group in our hall at All Saints. We have hopes to continue this again during future holidays, and for the occasional pop up special event.
Friday evenings 5.30pm-7.30pm
All Saints Church hall. For ages 5-16
Table tennis, Air hockey, Snooker, Board games, Crafts, Movies.
Contact the Parish Office or Sunday school leaders for info.
Holiday Club

Most years we run a Holiday club at St Saviour's for children of primary school age (4-11) during the August Summer holidays, usually during the 3rd week of the month, on the Wednesday, Thursday and Friday morning, then finishing with our family service  at 10am on Sunday. Look out for the Marque on the front lawn!
The mornings have a Bible theme, with games, crafts, story time, puppets and entertainment, drink and biscuits. Last year's theme was Jonah and the Big Fish, they all had a whale of a time!
If you would like to register your child for this year's holiday club please contact the parish office.
Open House

Our Toddler group meets from 9.30am to 11.30am on Monday mornings during term time, with school holiday outings organised by the parents/carers.
It is a bright start to the week for children 0 to when they start school! We are a friendly and welcoming group offering a wonderful variety of activities, toys, story reading and songs.
There are healthy snacks for the children and tea/coffee for the adults.
There is a £2 charge. New families are always welcome!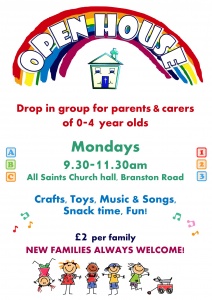 Youth Activities
Our young people aged between 11 and 18 regularly attend the lively worship and events run by
Burton Youth For Christ and Hey! at Whitemoor Lakes.
Please see their websites to find out more!
//www.burton-yfc.co.uk
//youthatwhitemoor.co.uk/hey